There was Team USA's big win over Russia in overtime that hockey fans wanted to compare "The Miracle" at Lake Placid in 1980. The Olympics have changed since those amateurs defeated a strong Russian team. Now the teams are filled with professional players with each team having their own all star team. There is no comparison.
Then there was the humorous Justin Bieber bet that showed up on a Chicago billboard. I snagged the photo from Entertainment Weekly's site and they snagged it from Command Sign. Funny stuff but Bieber apparently didn't see the humor. If Team Canada needed extra motivation they found it as they beat Team USA in overtime. The USA Team lost big in the bronze medal match.Finland came up with a 5-0 victory.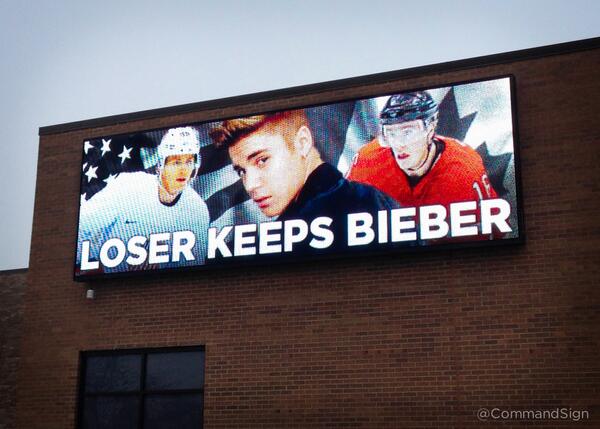 Sunday, Canada defeated Sweden 3-0 to win the Gold Medal. Of course the Swedes played without their star and NHL star Nicklas Backstrom failed a doping test. Living in the USA I had to search to find out who won the Gold but I had no trouble finding who failed the doping test.
There is always 2018, until then we still have Justin Beiber. Until then Beiber has a chance to mature, a chance to put a new album out, a chance to tour, and probably will have the last laugh.